AJE secures multi-million Stronelairg deal
A J Engineering has secured its biggest contract to date with a multi-million-pound windfarm deal.
The company is currently working to fabricate and install the structural steel and cladding for the Stronelairg Wind Farm substation in a deal worth £2.5m.
The contract for the project has been secured through Global Infrastructure who have worked closely with us on a number of other contracts.
Fabrication of steelwork is well under way for the project and the building is approximately one-third complete. The installation of the roof cladding has also started.
Largest single project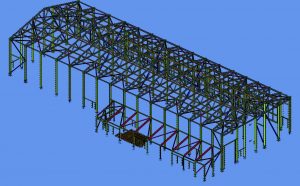 Graham Alexander, AJ Engineering's general manager said: "The contract has a value of £2.5m and our element of the works are due for completion this summer. To date, this is the largest single project AJ Engineering have ever been awarded."
He added: "The main contract has been let to a joint venture of BAM Nuttall and Siemens and they, in turn, have let the building works to Global Infrastructure.
"We have carried out a number of contracts to date with both BAM Nuttall and Global Infrastructure and it was due to these previous successful projects that we are asked to undertake Stronelairg.
"Only through working closely with all the parties involved in a project like this can you understand what is critical to their works and together you can deliver to meet the client's needs."
Challenging site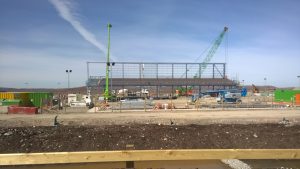 Graham, who joined AJ Engineering in 2014, added: "The building has to be built over 2000 feet above sea level in a very exposed location so not only does this make construction more difficult, the weather plays a significant role in the movement of resources to the site.
"We take pride in providing our clients with engineered solutions, and the logistics of meeting a tight schedule, in a difficult location, has meant we have had to think 'outside the box' on more than one occasion."
The Stronelairg wind farm is a 66-turbine project located on the Garrogie estate, south-east of Fort Augustus.