Forth Road Bridge back on books for AJE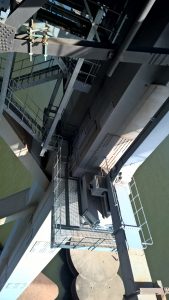 Three sets of stairs for seven new access platforms all fabricated by AJ Engineering are due to be lifted into place from a barge floating below the bridge in the Firth of Forth, for one of the company's latest projects.
Whilst the platforms will be lowered from the maintenance roadway in parts and assembled at the required level.
Staff at AJ Engineering are delighted to be back working on the Forth Road Bridge for client The Spencer Group.
The project is to create seven access platforms for service workers and stairs so each of the platforms can be reached.
AJ Engineering has worked on the Forth Road Bridge previously and was also recently involved in the development of the newly opened Queensferry Crossing. AJ Engineering supplied the south tower support frames, starter bar frames, tie beam support frames and helped with labour.
More to follow on the latest Forth Road Bridge contract.