Second Graduate Apprenticeship for AJE staff member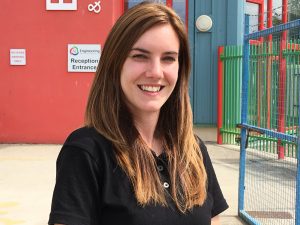 AJ Engineering is supporting its second graduate apprentice.
Quality manager, Jazmin Kellas has embarked on a graduate apprenticeship with Robert Gordon University in Aberdeen and is studying a BA (hons) in Business Management.
Speaking about the degree, Jazmin who has worked at AJE for 18 months said: "I am really enjoying the course and I am looking forward to learning more about how businesses operate and being able to apply what I learn to my work within AJE."
Jazmin's course will run over four years and although she visits RGU four times a year, the rest of the learning is done online.
Graham Alexander, AJE's general manager said: "AJE has grown organically and the processes and systems that we have in place are ones that have been developed to suit the needs of the company. However, we recognise that there may other business practices we could be adopting, so Jazmin was offered this opportunity so that she will be able to bring back her learning and apply it to AJE. We hope that in the long run it will highlight areas where AJE could be more efficient."
Last year, AJE became one of the first in the north to take on an engineering graduate apprentice when Laura Mair joined the firm.
Laura is learning with Heriot-Watt University, to gain a bachelor's level degree in Engineering, Design and Manufacturing.