Scottish minister learns about AJE apprenticeships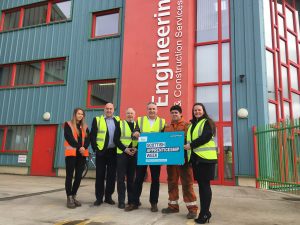 AJ Engineering today welcomed Scottish Minister Richard Lochhead to our premises to learn more about our apprenticeship scheme.
AJ Engineering & Construction Services was visited by Mr Lochhead, the Minister for Further Education, Higher Education and Science at the start of Scottish Apprenticeship Week.
Mr Lochhead was shown around the company's Forres-based headquarters and met with a number of the company's 14 apprentices who gave him an insight into their role.
He said: "Modern Apprenticeships provide individuals with an opportunity to not only work and earn, but also to achieve an industry recognised qualification to support future career ambitions. The continuing success of companies like AJ Engineering, which was recently crowned Scotland's Employer of the Year at the Federation of Small Business awards, demonstrates that they are providing their employees with the right skills and training to meet current and future business needs.
"I am thankful for the invitation to join the company in celebrating its 20th anniversary, to see first-hand the work it is doing to support apprentices pursuing a career in STEM."
AJ Engineering has 12 apprentices and its sister company NEWCo, based in Fort William supports two.
Mr Lochhead met with one of AJE's two graduate apprentices Laura Mair who later this week will visit six primary schools to talk about her apprenticeship and also deliver a STEM-based workshop.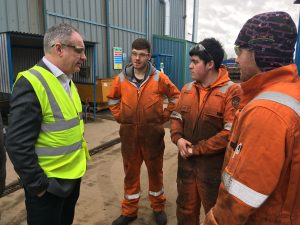 Joining Mr Lochhead on the visit was Amanda Mason and Anthony Standing from Skills Development Scotland.
Co-ordinated by Skills Development Scotland (SDS), the Scottish Apprenticeship Week campaign aims to encourage more employers to take on apprentices.
Amanda Mason said: "Apprenticeships offer employers a unique opportunity to invest in and develop the skills their business needs for the future. SDS continues to work with business to increase the number of new apprenticeship opportunities – creating skills that meet their needs.
"Scottish apprenticeships now allow employers to int roduce young people to their business while they are still at school and keep them in their workforce until they are degree qualified."
Alan James owner of AJ Engineering which is celebrating its 20th year in business said he was delighted to welcome Mr Lochhead as part of the week-long campaign.
"This is the third year that we have really thrown ourselves at Scottish Apprenticeship Week and it was great to have the opportunity to show Mr Lochhead what we do and how the apprenticeships we offer work."
Alan, once an apprentice himself added: "Apprenticeships are not new to AJ Engineering – it is something that we have always done here, but their popularity did die out for a while and that is why we as a firm enjoy getting on board with these types of campaigns.
"Since I started the company in 1999 we have always successfully employed apprentices with an exceptionally high retention rate once they are time served. It's important for us to show our support for Scottish Apprenticeship Week so we can illustrate to others why these schemes are so beneficial not just to the company but to the individual themselves."