AJE involved in monster canal project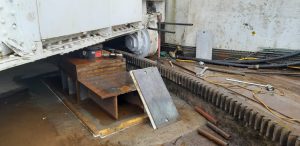 AJ Engineering is involved in a major project on the on the A82 Fort Augustus Swing Bridge which will see over £500,000 of bridge maintenance carried out.
The project will involve essential mechanical maintenance including replacing some of the technical components, which are vital to ensure the swing bridge continues to operate effectively when opening and closing across the Caledonian Canal.
Overseeing the project is Malcolm Rennie who said that AJE's role so far has been to:
Remove the old drive mechanism and replace it with an electric alternative.
Remove the old wheels that support the 300t bridge and replacing them with new.
Install new access hatches, automated barriers and make a new wheel house.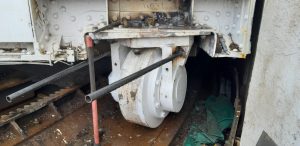 The project by Scottish Canals saw members of the public being able to wander along the bottom of a drained section of the canal. Opened almost 200 years ago, the Caledonian Canal in the Highlands took 12 years to build and its waterway's 60 miles (96.5km) length includes lochs Ness, Oich and Lochy and 22 miles (35km) of canal with 29 locks.
The stretch at Fort Augustus was emptied of so that the lock gates could be replaced, and this section was opened to the public for a day.
Scottish Canals drained more than four miles (7km) of the canal to provide safe access to the gates at Fort Augustus, at Loch Ness, and also nearby Kytra to replace lock gates.
Opened in 1822, with repairs and improvements made in the 1840s, the canal was built to designs made by famous Scottish engineer Thomas Telford. The waterway runs between Inverness and Fort William.
Last month,  we told how the team at NEWCo , AJE's sister company, completed works for Scottish Canals at its lock gates at Corpach which saw them engineering the project from concept, to fabrication, to installation. The NEWCo team was tasked with modifying the canal crossing to ensure that they are accessible for people with mobility issues.