On Yer Bikes!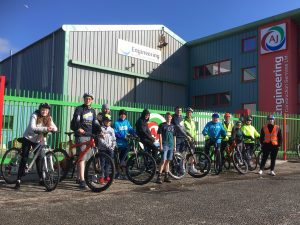 The community is being encouraged to get on their bikes to help AJE "engineer" its way to success with its own birthday charity challenge.
AJ Engineering and Construction is celebrating 20 years in business and a challenge has been set for the staff to clock up 21,000 miles on a static bike, the same distance travelled to projects in one year by the firm.
Now though, thanks to Business Development Representative Lee Binks, AJE is holding a monthly community cycle ride and they want as many people as possible to get involved.
The second ride took place at the end of April on a 14-mile route to Hill 99 in Culbin Forest.
Lee said: "The cycle challenge within the depot is going really well. People are taking part and we have had a few associates such as Sarah Medcraf from Moray Chamber of Commerce and Clare Locke who does some of our design work for us, coming in and taking part. However, I am a keen cyclist and with the weathers getting better, we thought we could hit the roads, take in some scenery and get the people of Forres involved as well."
He added: "Being involved in the community is very important to the company, so if we can get to know people a bit better by having these social outings, then that will be great. It will be fun, will give people the chance to socialise a bit and will also help people get fit. Who knows, it may be something that we continue beyond this year, if it's successful."
Other events throughout the year will include social evenings, more collaboration with groups in the community and the company plans to take part in Moray Doors Open Day in September which will incorporate a family and customer fun day as well as being open to the public.
Money raised over the course of 2019 will be split equally between Marie Curie in Moray, Diabetes Scotland (Moray branch) and Star for Harris.