Wind in the sails for latest AJE project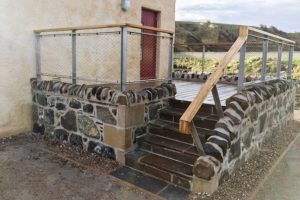 A former Sail Making Loft is one of the latest projects AJE has been involved in.
The Sail Making Loft is one of a number of buildings in Portsoy Harbour dating back to the 18th Century, however it fell into decline and was abandoned by the 1970s and was left empty and decaying.
In 2006, the building was acquired by the North East Scotland Preservation Trust and the building is now high-quality self-catering accommodation for up to 25 visitors and includes a fully accessible bedroom and bathroom, with a communal kitchen and lounge areas.
AJE assisted LDN Architects in the design of a new stainless steel handrail for the building's new patio area, including a stainless steel mesh panel to keep it open. This was all manufactured at our depot in Forres and was installed on site for the civil contractor AD Walker.