New equipment will lead to new work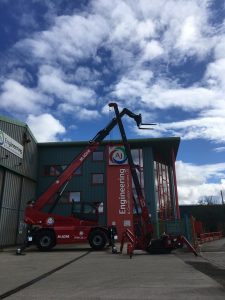 A SCOTTISH engineering and construction company has secured more work in the water sector thanks to an investment of two new pieces of lifting equipment.
Forres-based firm AJ Engineering has purchased an all-terrain Magni rotating telescopic handler and a UNIC Spider Crane.
The new machinery which arrived on site last week has assisted the company in securing further work in the water industry to the tune of £750,000 on sites across Moray and in Orkney.
Graham Alexander, general manager for AJ Engineering which also has a sister company NEWCo in Fort William said: "These new pieces of equipment will support us with work that we have secured in the water sector. These allow us to carry out installation and maintenance works in sites with difficult or tight access. This investment will allow us to further expand the mechanical and maintenance work we undertake."
The Magni handler is capable of lifting 6T and has a lifting height of 30m whilst the UNIC Spider Crane which can fit through standard door openings, is capable of lifting 3T and has a lifting height of 9m.
Both pieces of equipment were purchased with funding assistance from Highlands and Islands Enterprise.
Graham added: "They are versatile pieces of machinery and they will enable us to branch out and diversify into mechanical installations for a variety of clients. We are hugely grateful to HIE for their assistance and have no doubt that this support will enable AJ Engineering to grow further."