Forres partnership "builds" local bonds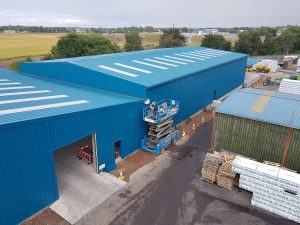 Everyone needs good neighbours and there is nothing like lending a hand to the people next door.
The team at AJE recently completed works for fellow Forres-based business James Jones & Sons Limited who are situated right next door to the firm's HQ.
Contracted by Hardie Engineering, a new client for AJE, the firm has been making steelwork alterations and has fabricated and installed a new steel framed building and cladding at the timber processing facility.
Lead by project manager Andrew Morrison, the steelwork fabrication started in early April with the cladding work scope being added later. The project ended at the end of last month. At the height of the works, a team of 10 personnel from AJE were on site and as Andrew explained some of the firm's apprentices were also involved: "It has been great working with another local business. We have worked on various projects in and round Forres and it's always good to be forming these partnerships.
"During busy periods we had up to 10 personnel on site including some of the apprentices who were learning from the experienced cladders and erectors on site."
He added: "There were two main areas of the project. There was the existing building which we have altered with additional steelwork and stripped off the old cladding.
"We have also added an entirely new building which we fabricated and installed. Both the new and old structures were then clad in composite wall and roof panels. This was probably the biggest challenge of the project to ensure it looked like one new building, and it was also quite constrained on all sides. However, we succeeded, and we subcontracted the painting work so that the new and old buildings look like one facility."