NEWCo team tee off for charity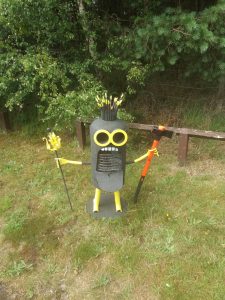 THREE teams from NEWCo, AJE's Fort William-based sister company are set to tee off for charity this weekend in a fundraising drive which is close to the heart of general manager Neil Worsdall.
And the NEWCo team has also fabricated a Minion-themed chiminea which will be auctioned off at the event held at Fort William Golf Cub.
Over 100 people will take part in the Harris Ross Texas Scramble an annual event held to raise money for Star for Harris.
The charity was founded in memory of Harris who passed away at just 15-months-old after a battle with a cancerous brain tumour.
Harris was only seven months old when he was diagnosed. He underwent emergency brain surgery followed by gruelling and intense chemotherapy in Edinburgh at the Royal Hospital for Sick Children (RHSC).
Sadly, the tumours returned before the end of treatment and Harris passed away August 2010.
His family set up STAR (Supporting Treatment and Awareness Raising) for Harris and amongst many other goals has:
Given £13000 towards a sat-nav for guiding brain surgery at the RHSC Edinburgh.
Funded 1 million 'Be Child Cancer Aware' cards to be distributed throughout Scotland to parents who have a child within the 5-18 year old age group.
Helped arrange two medical conferences led by Harris's specialist team.
Given isolation gift sets full of toys, books, DVDs & much more to children who are going into isolation for a stem cell or bone marrow transplant.
Gifted the oncology ward at the Sick Kid's Hospital with TV/DVD combos, music activities & electronic resources.

Funded music therapy for oncology children throughout Scotland including twice weekly at Edinburgh's Sick Kids Hospital and also contributed to Yorkhill's programme

Donated £14409 (Harris's date of birth in money) towards a research project into Harris's brain tumour type.
The family are close friends of Neil who said this is the charity's biggest fundraising event of the year: "It is great fun and it's certainly the event which raises the most for the charity. Over 100 players will take part and I am delighted the NEWCo team have thrown their weight behind it, not only making the chiminea but also taking part in the event."
In April, Neil took part in a zip line challenge across the River Clyde to raise money for Star for Harris last year, NEWCo made a Darth Vader chiminea which fetched £500 at auction.