AJE team expands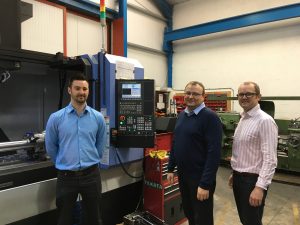 AJE is now home to three new members of staff all with varied employment backgrounds.
The three new employees will take on roles as estimators and project managers.
James Attridge has joined the firm from Morrison Construction as a project manager/estimator, but it's not the first time his path has crossed with AJE MD Alan James as he explained: "Alan actually gave me my first ever job when he was at William Reid's. I was just 18-years-old at the time."
James who starts with the company on November 5 added: "I am looking forward to starting with AJE which has a real emphasis on the people it employs. AJE has a great reputation, and as I live in Forres, it seems like the ideal opportunity."
At Morrison Construction, James' role involved working with major contractors on large projects, particularly in the water and waste water industries.
"I am looking forward to the variety of projects that AJE get involved with and the chance to take a project from estimating right through to completion," said James.
Also joining the team is Craig Johnston whose job as a fabricator/welder has taken him overseas in the past.
He joins AJE as fabrication manager from Woollard & Henry. A former apprentice he is looking forward to working closer to home.
He said: "Woollard & Henry's main office is in Dyce so after many years of travelling back and forth to Aberdeen I wanted something closer to home. I know AJE has a good reputation, so it feels like a really good fit."
Craig will oversee the workshop and machine shop production as well as oil & gas related projects.
Finally, Iain Stillwell has left behind a decade at Metalwork UK where he handled the estimating, buying, organised transport and arranged plant for sites.
He said: "My role as an estimator with AJE will be more streamlined; instead of carrying out a lot of different tasks I'm now able to concentrate on estimating. AJE handles a lot more work I'm unfamiliar with and I'm keen to learn about it and expand my knowledge."