AJE on track with more railway works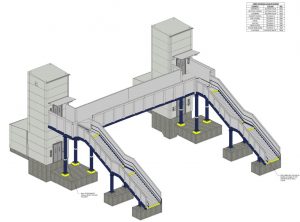 AJE Engineering has secured more work with BAM Nuttall fabricating and installing a pedestrian bridge at Kintore Station.
The work is part of the on-going Aberdeen to Inverness Project which has been implemented by Network Rail.
The project worth £350K to the company began in mid-June with Pat Quinn taking control of the fabrication design works. The fabrication of the bridge is now underway in the workshop.
The job is part of the ongoing Aberdeen to Inverness Improvement Project.
Graham Alexander said: "This is a very similar project to what we did at Forres Railway Station. We are engaged with BAM Nuttall who are working with Network Rail."
Working to designs provided by the customer, the project is being led by Craig Johnston and has a squad of 10 handling the fabrication with a team of six doing the installation.
Graham added: "Our fabrication design works started in mid-June in the drawing office. Pat Quinn who also worked on the Forres project undertook that part of the project. Now, fabrication is underway in the workshop and this is expected to take three months, then the site team will take over to install it. The installation is different to Forres as that railway line was not operational at the time," explained Graham, "however, the installation at Kintore will take place during weekend nights only as the railway line is still live. This will ensure minimum disruption to the users of the railway service."