Town landmark to celebrate 20 years in business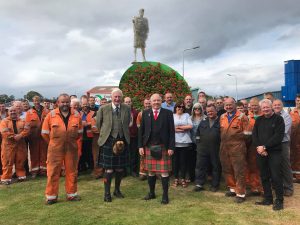 A NEW landmark has been erected in a Moray town by AJ Engineering to marks its 20th year in business and to honour the town's connection to piping.
AJ Engineering has fabricated and installed an aluminium drum major who stands 17 ft above the ground on its premises at the entrance to the Greshop Industrial Estate.
The company decided to erect the structure to celebrate its 20th birthday but also wanted an icon that would be relevant to the town.
Managing Director of AJ Engineering, Alan James explained: "We have been doing various activities throughout this year to celebrate that AJ Engineering is 20 years old and one idea that came from the staff was to erect a monument which would showcase what intricate and varied steelwork we can handle at AJE, but also a structure that would mean something to the people of Forres.
Piping legacy
"We got our thinking hats on and to us and it made sense to choose something piping related due to the fact the town supported Piping At Forres for six years. The drum major looks fabulous and my team at AJ Engineering has worked wonders to bring it altogether and we hope that the people of Forres will enjoy it for many years to come. Due to its height, we really do hope that it becomes the newest landmark of the town."
Choosing a piping related theme for the structure was poignant in more ways than one as Alan James is the current chairman of Forres Events Limited which organised the Piping At Forres from 2013 to 2019. AJ Engineering also offered year-on-year support to the event including providing staff members and equipment to help set up the arena and now Alan is also involved with Forres & District Pipe Band in his role of vice-president.
The drum major structure was unveiled at a ceremony last Friday (August 16).
Community effort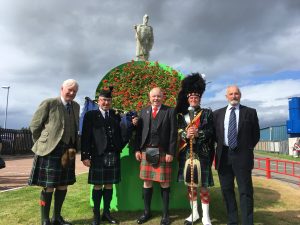 Speaking at the unveiling, Alan James said: "The drum major structure really has become a community collaboration which we are so good at in Forres. The drum major was modelled on Drum Major Mike Munro of the Forres & District Pipe Band and we are delighted to welcome Mike along, with Chairman John Channon and Pipe Major Gordon Roy."
He added: "However, we are also delighted to have the support of Forres in Bloom whose volunteers very kindly planted up the base that the drum major so proudly stands behind."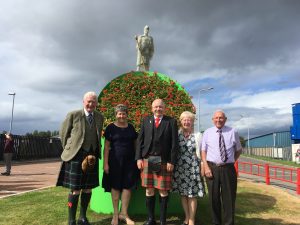 The unveiling was led by Major General Seymour Monro, Depute Lord Lieutenant of Moray and President of the Forres & District Pipe Band.
He said: "AJ Engineering's reputation for top quality work is second to none. It is an award-winning company which is renowned for being reliable and delivering on time, being proactive and safe, being environment and people friendly and for promoting equal opportunities and sustainability. Alan's foresight, personal effort, fine judgement and commitment to his workforce have been at the heart of what has been achieved here on the Greshop Estate and nationwide over the last 20 years."
He added: "It is only right that AJ Engineering has decided to commemorate this special anniversary with a statue of the Drum Major of the Forres & District Pipe Band. It is a stunning statue which demonstrates the skills and quality of the workforce and will be a great landmark in Forres at the other end of town from Sueno's Stone. A great contrast."
Year of celebration
AJ Engineering has dedicated this year to raising money for three charities; Marie Curie in Moray, Diabetes Scotland (Moray branch) and Fort William-based Star For Harris which is regularly supported by the company's sister firm NEWCo.
The staff have embarked on a challenge to cycle 21,000 miles on a static bike to raise money for the charities and will also take part in Door Open Day on September 21 with a family fun day.
AJE's business development representative Lee Binks is also organising monthly community cycles to help towards the final total.
For more information visit www.ajengineering.co.uk or find the firm of Facebook at @AJEngScotland or to make a donation visit: www.sponsorme.co.uk/ajengineering