Trial assembly on first HWO system complete
The first trial assembly of one o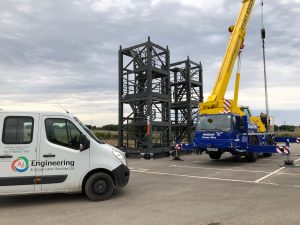 f two HWO Systems is currently taking place, with some parts almost complete. The project has consisted of the fabrication of various frames which will be fitted to free issue stairs. The continuation of a job first mentioned in July's Micron with the project progressing well.
The work, for a new drilling contractor involves the fabricating and machining a range of components that will make up a system that will be used for well abandonment.
It has involved both the workshop and CNC and will rack up around 2600-man hours once complete.
The latest part of the project is the fabrication of 14 different frames. Once trial assembled the first system will stand approximately 10m high, 8 meters long and 3 meters wide. They have had to be built to taught quality requirements in accordance with DNV 2.7-3 & DNVGL-ST-E273.
Lee Binks, business development representative who is working jointly on this project with fabrication manager Craig Johnston said: "We are very pleased with how this project is going. This all began after we completed some smaller projects for this customer and they returned to us for this which is a very large scale project. The relationship with the customer is good, the work is progressing well and we see no reason why this won't continue."