Maiden 'voyage' for bridge gantry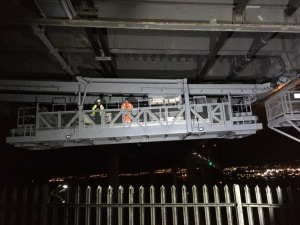 A PROJECT on a landmark bridge which AJE announced it had secured this time last year has been completed.
Contracted by The Spencer Group, AJE was tasked with fabricating a replacement of the inspection gantry for the Kessock Bridge.
And at the end of last month, the inspection gantry took its first run on the rails under the bridge which connects the Highland capital to the Black Isle.
The inspection gantry is used to carry out examinations on the bridge and the contract which was worth £300K involved all the skillsets that the firm boasts.
Project manager Wilson Burnett said he was delighted to get news that the gantry had made its maiden voyage.
"AJE technically signed off this job just before Christmas, but I received word last week from The Spencer Group that the inspection gantry had made its first proper run on the rails under the bridge."
He added: "The whole system was tested here at our HQ, and it was then taken apart and shipped to the site in three lorries where it was reassembled by our team. Then the electrical contractor came in, reconnected all the electrics and we got word that the gantry had made its first journey of 80 metres."
The existing inspection gantry was over 30 years old and had been condemned. As well as being able to inspect the bridge, the new gantry will also be crucial for painting the bridge which is expected to take place over the next three years.
However, it won't be breaking any speed records, a round trip of the bridge takes three hours!!!