AJE designs and fabricates moveable structure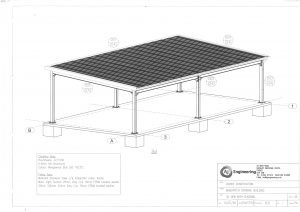 A movable building has been the latest challenge for the AJE team who were tasked with designing, fabricating and will be installing the structure at a site near Dundee.
Commissioned by Corrie Construction who are working direct for SSE, AJE had to create the storage building which can be easily dismantled in case the site at Carolina Port is sold on.
The Carolina Port power stations generated Dundee's energy for much of the last century. First there was a coal-fired power station from 1908 and it was replaced by an oil-fired unit built in the mid-1960s. The rising cost of oil led to its closure in 1983 and it was later demolished. The site is now owned by SSE.
AJE managing director, Alan James explained: "It's actually quite a fascinating project and is not something we have been asked to do before.
"The site at Carolina Port is not necessarily what SSE needs, so what they have asked for is a building that can be dismantled and rebuild elsewhere should they sell Carolina Port but want to move the storage building.
"It's interesting, firstly as the site is of importance due to its history and how it developed over the years as the energy industry changed, but from a design perspective, we had to get our thinking hats on.
"Carolina Port is at sea level, so the steelwork doesn't need to be heavy, however, if it moves to a different location, it has to be suitable. Normally we use plastic coated mild steel for the cladding to these types of buildings but for this one we have used aluminium which means that it won't rust, despite the location.
He added; "Everything is ready to go with the project. We are just waiting for the go ahead from SSE to get onto site and install the structure."