Project to go like clockwork
PLANS are in place to turn a historic Moray landmark into a tourist attraction and AJ Engineering is involved.
If given the green light, visitors to the Tolbooth situated in the centre of Forres High Street will be able to access an external walkway around the old clock tower, giving them views over the town and surrounding area.
The project which is in its first phase is being progressed by the Forres Heritage Trust which owns the building.
Phase one will be for AJE to design, fabricate and install new stairs which will eventually allow people to access the walkway.
George Alexander, chairman of the Trust which also looks after Nelson's Tower explained: "It is a little-known fact that there is a narrow walkway around the clock, and until now only a privileged few have ever gained access, but it is the aim of the Trust to make access safely available to tourists and locals alike.
The Trust still has to seek permission from Historic Environment Scotland, Moray Council Building Control and Moray Council Planning for the whole renovation.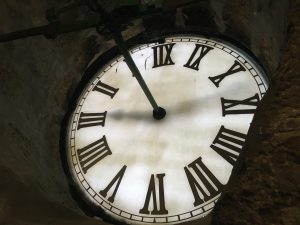 However, an application has been lodged with Moray council to replace the wooden stairs.
"We have a very long way to go with this project," explained George. "This is a building with huge historical importance for the town and the region, so we want to make sure that we do everything by the book and make sure whatever we do, is in keeping with the building and most importantly safe for those who will access the walkway."
The project has received £9375 from the Town Centre Regeneration Funding which was allocated for 'alterations to the outside gallery around the clock tower.'