AJ Eng boss in running for award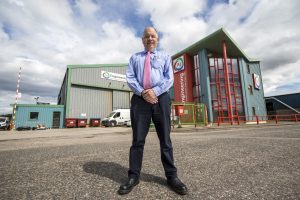 AJ Engineering managing director Alan James is in the running for an award which will recognise his leadership skills.
Alan has been nominated for an award by The Institute of Directors in Scotland.
Alan is one of six finalists in the director of the year category for small and medium size businesses.
In the last 18 months the company has also been crowned Scotland's Employer of the Year at the Federation of Small Business (FSB) Celebrating Small Business Scottish Awards and also won SME of the Year at the Moray Chamber of Commerce Business Awards.
Talking of this latest nomination Alan said: "In what is a very difficult time for all businesses across Scotland and the UK, this is some bright news. I am very proud of AJ Engineering, but a director is only as good as the staff that the company employs and I am very lucky to have an extremely strong team both at our Forres headquarters and at our sister company NEWCo, which is based in Fort William."
Alan founded AJ Engineering in 1999 and now employs over 80 staff including 12 apprentices and has developed a reputation as one of the region's foremost steel fabrication, steel erection and cladding specialists and supporters of continuous learning and apprenticeships. It acquired NEWCo in 2015.
Alan is well known in Forres and is vice president of the Forres & District Pipe Band, a director of Forres Events Limited which staged Piping At Forres for six years and in 2018 was made a Burgess of the town.
Alan added: "I am very much looking forward to sharing this news with the staff and attending the event in September. I am up against some very strong contenders, so even just to be recognised is a true honour."
Malcolm Cannon, who is the Institute of Directors' chief said: "No business has been able to escape the strain of the last 12-months.
"From the ongoing Brexit delays to the current challenge of our lifetime with COVID-19, for the vast majority of business leaders, it will feel as if they have been thrown curveball after curveball.
"However, in the most trying of times, we have seen business leaders demonstrate the highest levels of passion and commitment as they strive for success and make sure they emerge from all of this.
"The Institute of Directors works hard to represent our members all over the country and being able to celebrate their achievements is a highlight of our year."
The winners are set to be announced on Tuesday, September 8.