Statue will bloom through winter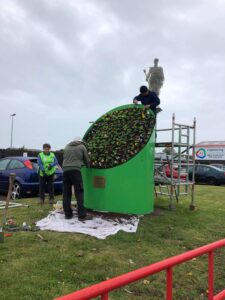 A GROUP which keeps the town blooming throughout the year has turned its handy work on the AJE piper statue which was erected as part of the firm's 20th anniversary celebrations last year.
Forres in Bloom has planted polyanthus and pansies in the planter which forms the base of the landmark which was unveiled last August and also honours the town's connection to piping.
Managing director, Alan James who has given the group a donation as a thank you for their efforts said: "We are delighted to have the skill of the Forres in Bloom team who for years have kept the town so colourful with their creative planting and in the spotlight with the many, many awards they have won."
"Every year, the town is awash with colour and this year is no different. From Grant Park, right up and down the High Street, there is colour everywhere and given that this has been such a tough year for so many, the continued hard work is no doubt spreading joy with more poignancy than ever before."
He added: "We erected the statue last year, as one way to mark AJ Engineering being in business for 20 years and the team did a tremendous job then.
"Now we are delighted to welcome them back to get the statue looking colourful for the colder months ahead."
The statue which depicts a drum major is fabricated out of aluminium and stands an impressive 17ft above the ground at the AJ Engineering premises at the entrance to the Greshop Industrial Estate.
Choosing a piping related theme for the structure was poignant in more ways than one as Alan James is the current chairman of Forres Events Limited which organised Piping At Forres from 2013 to 2019. AJ Engineering also offered year-on-year support to the event including providing staff members and equipment to help set up the arena and now Alan is also involved with Forres & District Pipe Band in his role of vice-president.