Surveyor technology crucial for factory project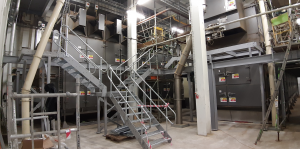 A YEAR long project to create maintenance access platforms for a fish feed factory has been completed with AJ Engineering harnessing the use of 3D surveyor technology.
Working for client MOWI who have created the new factory at Kyleakin on Skye to produce feed for their salmon farms throughout Scotland, Ireland, Norway and the Faroe Islands, AJ Engineering was tasked with designing, fabricating and installing the complex's access platforms.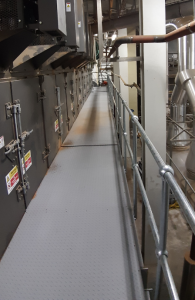 However, the design of the building saw the company using the services of Caintech Ltd who were able to produce complex 3D plans which enabled AJE's draughtsmen to create the drawings.
Graham Alexander, company director explained: "Without using the skills and services of Caintech Ltd designing the access platforms would have been near on impossible. We have worked with Caintech before but we have never used this service that they provide and it was absolutely crucial for this project."
He added: "Once our draughtsmen had done the plans, everything was built in the workshop and then transported to Kyleakin. It has been quite a labour-intensive project and has led to lots of man hours. There were 10 people in the workshop and then we have had a number of people on site including the team from NEWCo. Everyone has worked so hard."
The factory encompasses a main process building and various other production buildings forming the £125M facility. The main structures were constructed using steel braced frames with precast concrete floors and horizontally composite cladding systems for external and internal walls. Foundations were created with various piled solutions due to the nature of the ground and the large forces exerted by the 40m high Main Process building.