Roller-coaster ride for AJE team – almost!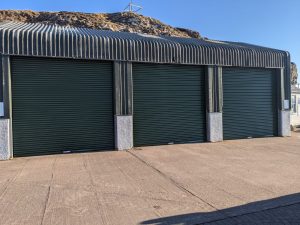 A JOB on the island of Canna to replace some roller shutter doors almost ended up being a rollercoaster of a ride home for an AJE team.
But the team's dedication to the job, customer and a desire not to get stranded saw them work round the clock in true AJE style to get the job complete!
The team were deployed to Canna by the National Trust for Scotland to replace three roller shutter doors as the existing ones were beyond repair.
They arrived on Monday February 1 with the aim of returning by ferry on the Thursday of that week.
However, by Tuesday, the Thursday ferry was cancelled due to an adverse weather forecast! The team had two options, return on the Wednesday or stay until the ferries started running again!
Not wanting to leave the client with a half-finished job, the team worked until 3am on the Wednesday morning so the doors were installed and operational. Bleary eyed, they then caught the Wednesday morning ferry home ensuring the beat the storm!
AJE Director Graham Alexander said: "It's great when we go above and beyond to ensure we overcome challenges, so the client gets what we said they'd get, when we said. It also meant another job could be brought forward for the team to start on the Thursday."