Floor poured at new AJE development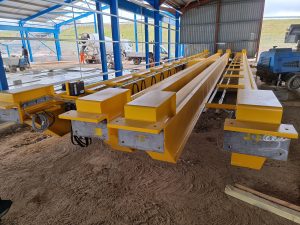 A significant step with the multi-million-pound development at Waterford has been completed with the pouring of the concrete floor and the arrival of equipment.
In December AJ Engineering announced it was expanding its site to a neighbouring location in Forres and the project is on track.
Last week, three pours of concrete handled by contractor Lovie Construction took place in one of the buildings at the site and overhead cranes also arrived.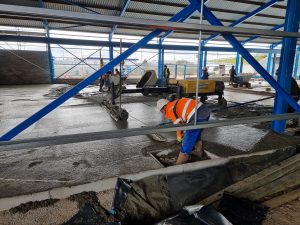 Company director, Graham Alexander said: "The development at Waterford is progressing really well and it was great to see the concrete floor being poured in one of the buildings. It's a significant step as is the arrival of the over-head cranes. There's still a lot of work to be completed, but it is on track and the next steps will be to carry out the roof and wall cladding on the buildings."
Waterford is a former sawmill site and in early summer new a FICEP Automatic CNC Drilling & Saw Line will be installed.
AJE had previously rented the buildings and ground from Moray Council but bought the site in December last year. The purpose of the investment is to make AJE more efficient and be able to take on more projects and the three-year, three phase project is also expected to see the creation of a number of jobs over that time.