Rail depot roof on track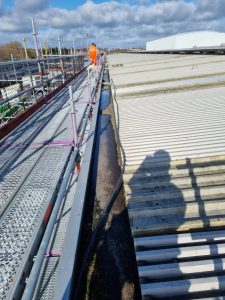 A complicated project working on a maintenance depot for trains is underway at Craigentinny in Edinburgh.
Working once again for BAM Nuttal, AJ Engineering had to ensure a team of 12 employees were PTS trained to ensure they had the correct training to work on the railway line.
The job itself is to replace the roof cladding on the building, a skill which AJ Engineering specialises in.
But this roof is no mean feat as the building itself is 185m long and 20m wide and involves numerous sub-contractors.
The project also involves the installation of a permanent walkway which will allow the roof to be accessed for maintenance in the future.
Handling the project is James Attridge who said: "The actual work itself is pretty straightforward for our team, but there are quite a few variables and of course we are working on a live railway line.
"One of the first hurdles was that we needed to get the staff the PTS training, and I would like to thank Fiona Anderson for managing to get them all through the training at very short notice. We do have employees who had this certificate, but they did not have the required skills for this specific job. However upskilling staff is never a bad thing and hopefully it will stand us in good stead to secure more rail jobs in future."
James added: "The team were deployed at the start of march and so far we have installed 25 per cent of the south pitch roof sheets. The project is on track and it's good to be working in an area where we don't often venture. AJ Engineering is renowned for rural and remote locations so working in Scotland's capital has been quite different."