#ScotAPPWeek21 Rising Through the Ranks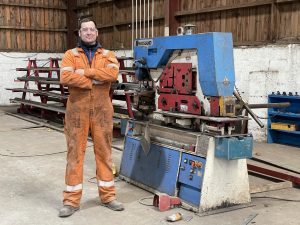 AJE former apprentice Lee Evans has become the foreman of the new site at Waterford.
Lee Evans (31) secured an apprenticeship with AJ Engineering in 2007 and to mark Scottish Apprenticeship Week which runs until March 5, he shared his journey.
Lee said: "I never actually intended to become an apprentice, instead I was going to go into the army, but I needed a trade so started a pre-apprenticeship in fabrication and welding at Inverness College. As part of my course, I had to do two days a week with a company and I applied to AJ Engineering and Varis Engineering. I got my days at AJE and at the end of my first year, Alan offered me an apprenticeship. I jumped at the chance as I knew that an apprenticeship was one of my best options."
Lee worked as an apprentice fabricator/welder for three years and at the end stayed with AJE as he explained: "I think I must have made a good impression and I wanted to stay as they had looked after me."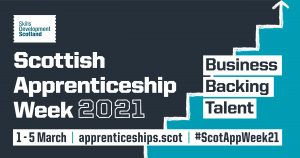 However, a few years later he was offered a position with a different company, so for a while moved on.
"The offer was a good one and that is the only reason I moved away from AJE. However, the job ended up being not quite what I expected and eventually after joining Rennie Fabrication which later amalgamated with AJE, I found myself back in Forres. Malcom who owned Rennie Fabrication spoke with all the staff about whether we wanted to come across and join AJE with him and it never crossed my mind to go anywhere else."
However, Lee's time away stood him in good stead as he had learned to manage teams of people and had experienced a lot of on-site work and working away from home.
"All of these experiences have shaped me, but I dare say if I hadn't done my apprenticeship, I would have still ended up at AJE, but I would not have progressed as far as I have today.
"Doing an apprenticeship is hard work. It's not a cop out option. I don't know any apprentice who goes home at night and switches off. You are always thinking about your day and then you have your college work to get done as well. You are also generally just out of school or college and you're meeting new people, visiting sites and that can be quite intimidating."
Speaking about his new role, Lee who lives with his wife Jennifer and two sons Rhylee (9) and two-year-old Oaklee said: "I did dream of one day progressing through the company and I have always wanted to better myself. I am doing it for my family and my eldest son is proud of my new position.
"I think having been an apprentice I can help the guys I work with better. I have been there and I know what it's like. I have been in their shoes. That said, I am also learning every day. There is never a day where we don't all learn something new."
However, if you think this is as far as Lee is going, think again.
"Being a foreman is still a heavy manual job with added stress and responsibility. I look up to the likes of Matt MacPherson and Craig Johnston. Their jobs are tough as they are managing staff but also managing their own projects, but one day I would like to think I could be doing a similar job to them."