Team returns to historic Scapa.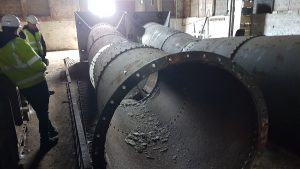 A team from AJE will return to Lyness on the Island of Hoy to complete a project which was started last August on a historic visitor centre.
The project has involved the enhancement of interpretation and displays, the creation of a building which will house an exhibition space, café, toilet facilities and information areas.
Now the team will return to work on the restoration of the existing pumphouse and boiler house which will both be clad.
Orkney Islands Council secured a grant of £1.155 million from The Heritage Lottery Fund for the project.
General manager, Graham Alexander who is leading on the project said: "This project has huge historical importance and we are delighted that we are now coming to the end of it. The works have involved involve input from our teams at our headquarters in Forres, but also the skill of our employees at our sister company NEWCo based in Fort William."
"There were two existing steel chimneys which are historically significant. The NEWCo team took the chimneys away for one to be repaired and they made a replica of the second one which sadly could not be restored."
He added: "There are huge logistics with this type of project but AJ Engineering is no stranger to working in remote locations so the contractors are in safe hands."
Scapa Flow served as a sheltered harbour for British ships during war, with some 12,000 people once stationed off the Orkney isle. Lyness became the naval headquarters in Orkney during 1919 before works were undertaken to further enlarge the base in the 1930s.