AJE assists with gull trial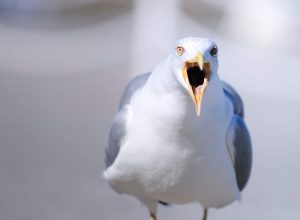 AJ Engineering is supporting a gull management trial in the Pilmuir Primary School area of Forres.
The one-year pilot is being joint funded by AJE, the Forres Common Good Fund and the school itself.
Gull nesting is prevalent in that area of Forres and it's hoped that the removal of nests and eggs will allow residents and landlords to take action to prevent ongoing nesting.
Alan James, MD of AJE decided to support the trial after being approached by local councillor George Alexander.
Alan said: "Everywhere I go in Forres there are seagulls as they have an easy source of food and good places to nest. In the country they used to follow the farmer's plough for earthworms but now they have become urban and are a menace.
"It is difficult for individual house holders or businesses to tackle the problem legally and in isolation, so when George Alexander approached me for some financial help, I thought it worthy of some AJE support. Moray Council has the resources to properly manage the safe removal of nests and eggs in a controlled manner."
He added: "Hopefully the trial will be a success which will allow the Pilmuir residents to have some gull respite. Presently at the Greshop and Waterford we have too many gulls and nests and it is a problem, so I will be interested to see how this trial goes."
Local councillor, George Alexander, said: "This is very much a one-off trial, in a limited area, which aims to remind residents and property owners in the area that they do not have to live with the scourge of marauding gulls every year, however clearing nests and eggs is not a long-term solution. It is a short-term solution and the costs are prohibitive.
"The only long-term solutions lie with property owners who must take action to prevent the seagulls from building on their roofs, and local people must do all they can to avoid food being available to the seagulls."
Local councillor, Lorna Creswell, said: "I'm looking forward to the trial and the impact it makes, so residents can see there's the potential to improve things."