Staff roll expands with company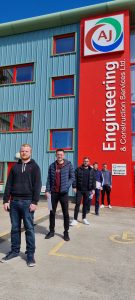 Five new trainees have joined the ever- expanding team at AJ Engineering.
The company which was formed in 1999 with just two employees now boasts 114 staff members between its sites at Greshop and Waterford in Forres and its sister company NEWCo in Fort William.
Four of the new trainees – Ross Murdoch, Joseph Finlayson, Phil Stephens and Ewan Storrier will complete a 16-week intensive course at Nigg Skills Academy to obtain their National Certificate (NC) and SVQ level 2 before completing their SVQ Level 3 in the Forres workshop.
The fifth trainee, Aidan Morrison already has his NC and SVQ Level 2 from Inverness College and will now complete his SVQ Level 3 at Forres.
Fabrication manager Craig Johnston said: "The last time we took on trainees in this way it was really successful, so we have decided to do it again. The company is expanding, particularly with the development at Waterford so that means our teams needs to expand too.
"The 16-week course at Nigg Skills Academy is brilliant. These guys are learning in just a few weeks, what an apprentice would in two years. It means we can get them into the workshop a lot quicker so they can put what they have leaned into practice and also work towards their SVQ Level 3 at the same time."