Maintenance for maltings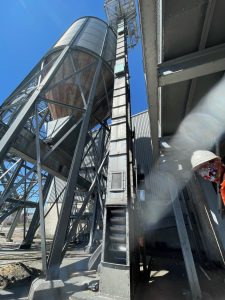 Two of the AJ Engineering team have been back to Burghead Maltings to work on a three-day project.
The work focused on 'Elevator E20' where the two-man team replaced the belt and buckets which are the internal mechanism in the elevator casing to lift the product from the kiln.
Overseeing the works was Project Manager Allan Martin, he said: "We have done this work on a couple of elevators at Burghead Maltings a few years back and we were delighted to be back again. Over time the metal buckets in the elevator wear, with the belt also becoming worn and stretched.
"The replacement involved opening the elevator casing at ground level and removing all the old buckets. We then split the belt and joined to the new belt as we pulled it out from the bottom to feed the new belt around the rollers at the top of the elevator. Once the old belt was pulled out we joined the new belt and attached all the new buckets."
He added: "Previously, we have replaced metal buckets on site with plastic intrinsically safe buckets and reduced the pitch to accommodate the volume but in this case there was no room to reduce the pitch so the client accepted replacing with new metal buckets."