Staff embrace CADCAM training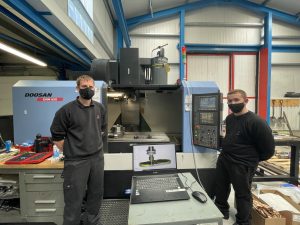 More investment in staff and equipment has taken place in AJ Engineering's CNC workshop.
Alex McAlister and apprentice Ethan Hurley recently attended a two-day course in Shropshire for training on the company's new CADCAM software.
CADCAM software will take most drawing files from clients submitted at enquiry stage and convert them into programme data for the CNC machines. This data is then transferred to the machine by a USB stick. The new system will make the processes in the CNC shop more efficient and competitive compared to manual programming which can take a lot of time.
It also means that AJ Engineering will be able to take on more complex machining as the software will provide the programming for each particular project.
In June, we told how we had installed a new XYZ milling machine in the CNC workshop.
The new XYZ milling machine is much bigger than the previous piece of kit and has the added benefit of having a PROTO TRAK control system compared to the older machine which was predominantly manual.
The CNC workshop has been increasingly busy and the new piece of equipment will help with output.