Trial fit for structure on historic St Kilda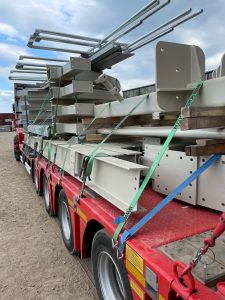 AJ Engineering has been involved in a project on the remote and historic island of St Kilda.
The company had been tasked with fabricating two structural frames as part of a bigger development on the island.
The Ministry of Defence has had a presence in Village Bay, St Kilda since the 1950s and over the last few years there has been ongoing works there by defence contractors QinetiQ.
Project Engineer Rob Williamson said: "We were awarded this contract back at the start of 2020, but due to the pandemic things were put on hold. However, it was picked up again last November and I am pleased to say that the structures that we fabricated are now on site and the client is very pleased."
Rob added: "Due to the delays, it ended up being a job that we had to turn around quickly with a short delivery time, but as always the AJE workshop team rose to the challenge. We had to express all coatings (galvanising and paint finishes) associated with the project at short notice with sub-contractors, in order to meet the client's new delivery date. We were also involved in another project as part of the same development to supply additional steel to help strengthen a structure that was already on the island."
The supply only job is now complete and to ensure the client fitters were able to erect the structures, the AJE team did a trail fit at its new site at Waterford in Forres, to ensure it would be an easy installation for their onsite team.
"It's really important to us, particularly when the project is in a remote location, to ensure that we trial fit the order. That way we can be sure that what we have fabricated is all fitting as it should and that we are satisfied the customer will be able to erect on site, with no issues.  We also provided a set of technical installation drawings from our AJE drawing office, to aid the process.  I am pleased to say that we have had really positive feedback from the customer."
Last year was the 90th anniversary of the evacuation of St Kilda.
For thousands of years people had lived on St Kilda but over the time the community dwindled and eventually in April 1930 the remaining residents decided it was time for them to leave the island and they petitioned the government for help.
Today, St Kilda supports a community of workers and researchers.