Internship success for student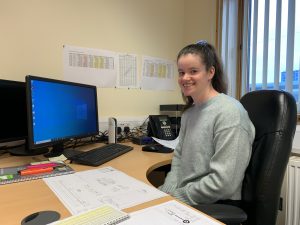 A four week internship has given a secondary school student an insight into the workings of AJ Engineering.
The company has become involved with Career Ready which is a national charity that has a network of employers and educators who all believe that every young person deserves the opportunity to kick-start a rewarding future.
Through the initiative, AJ Engineering was matched with 17-year-old Lucy Paul who will now be mentored by the team at AJE.
And last month, she spent four weeks at AJE to learn about different aspects of the company and worked closely with Project Engineer Rob Williamson.
Lucy who will be returning to S6 at Elgin High School after the summer break said: "It's been really interesting, and I hadn't realised until I came here about all the different departments there are that make up one company. In my first week I spent time in each department, so I got a real good feel of the whole business. I was surprised at the scale of the company and it has been really interesting getting an understanding of how many people work here and the different roles they have. I have really enjoyed it."
As well as the experience of being at AJE, Lucy's internship will give her a unit towards gaining an SQA qualification as Rob explained: "The experience that Lucy has got from being here for the two weeks is invaluable. As well as seeing the different departments, we also put her through a mock interview and she had to give a presentation to company director Graham Alexander, representatives from Career Ready and her school. However, the internship will also help her towards an SQA qualification as well."
Rob added: "In her second week, Lucy was working on mock jobs, so she had to get quotes, procure materials, then follow that through with delivery notes and sales invoices. She has also been working on how to read technical drawings and she has a good grasp of it. I didn't want her to just be sitting watching what I do, I really wanted her to get proper experience and she has done brilliantly."
Lucy was matched with AJE as she does have an interest in engineering as she explained: "Career Ready do try to put you with a company that you have an interest in. I don't know what type of engineering I want to do but being here has been really useful. It's been great to learn in a practical way and not just by being told something."
Graham Alexander added: "AJ Engineering's ethos has always been about encouraging young people, for example, we have superb apprenticeship and training programmes. We have just taken on two new apprentices at NEWCo in Fort William and last month we had five new trainees start with us at AJE. The Career Ready scheme really mirrors what we believe in as a company.  I hope this has given Lucy a better understanding of the world of work and an insight into the engineering fields AJ Engineering operate.