Investment in young people continues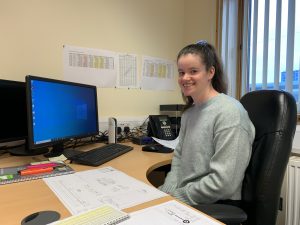 AJ Engineering's relationship with a school pupil who completed a four week internship at the company continues.
Via the Career Ready project, AJ Engineering welcomed 17-year-old Lucy Paul over the summer and she recently gave a presentation on her experience.
Career Ready is a national charity that has a network of employers and educators who all believe that every young person deserves the opportunity to kick-start a rewarding future.
AJ Engineering was matched with 17-year-old Lucy Paul and whilst her work experience stint is complete, she will continue to be mentored by the team at AJE.
Project Engineer Rob Williamson has been taking the lead on Lucy's experience and he was invited to her virtual presentation which was also attended by senior school staff members and some from the Career Ready team.
Rob said: "It was great to see Lucy give her presentation. It gave those attending an insight into what she experienced whilst with us over the summer and it was really great to hear that she had such a positive time. Lucy mentioned that from her experiences gained at AJE, she definitely wants to pursue a career in engineering, she is still researching the discipline that she would like to do which most interests her."
Lucy is now in S6 at Elgin High School. When at AJE she spent time in all the different departments, experienced a mock interview and spent most of her time with Rob doing project management, assisting with 'live jobs'.