Safety barriers move historic clocktower on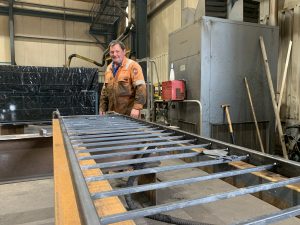 A PROJECT to develop the clock tower in one of Forres' most historic buildings into a new tourist attraction is gathering pace and AJ Engineering has been at the forefront.
Listed building consent, planning permission and a building warrant to install safety barriers on a walkway around the clocktower at the Tolbooth in Forres town centre have been secured.
AJ Engineering is now working to fabricate and install the barriers so that the tourist attraction can open to the public.
The company has already been involved in the design, fabrication and installation of a new stairway which will give people access to the walkway.
The old wooden stairs which were removed by volunteers revealed signatures which it is believed are of workmen who worked on the tower since the early 20th century. AJE Chargehand Fabricator, Cliff Robertson who worked on the stairway, added his signature to the wall too.
AJE Director, Graham Alexander said: "We are delighted to be working with the Forres Heritage Trust once again. We have supported the Trust which looks after the Tolbooth and Nelson's Tower on a number of projects over the years and it's great to be involved in this latest effort by the Trust and its volunteers to turn the clocktower into something really special for locals and tourists."
The Forres Heritage Trust has received some funding for the project.
It received £9375 from the Town Centre Regeneration Funding which was allocated for 'alterations to the outside gallery around the clock tower,' and the latest funding of £11,301.60 was secured from The Beatrice Partnership Fund and will be used to restore the Tolbooth clock and install the safety barriers.
Previously, the Trust received £20,000 in funding from the Berry Burn Community Fund which was used to make repairs around the walkway and to carry out extensive pointing of the stonework around the clock tower.