MD Alan James wins director's award
Alan James has won the title of regional director of the year 2021 for the Highlands and Islands.
The Institute of Directors (IoD) Scotland announced the winners of its Director of the Year Awards last night, with Alan James, managing director of AJ Engineering & Construction Ltd being announced as regional director.
The live online ceremony was hosted by Shereen Nanjiani.
Alan was in the regional category with Fiona MacInnes of Orkney Fisherman's Society and Kevin Shaw of Heatherlea (Scotland) Ltd.
Judges commented that for over 20 years, Alan has led strong growth in an ambitious engineering firm and has demonstrated strong leadership to continued business development during challenging times.
Commenting on the award, Alan said: "I am honoured to have been awarded the title of Regional Director of the Year 2021 for Highlands & Islands. I was up against some strong contenders so even just being in the running already felt like a win.
"It was a fantastic ceremony and I was delighted that the host, Shereen took the time to ask about AJ Engineering and its focus on apprentices and apprenticeships. That is the ethos of the company and it was great to have a platform to raise that part of the company's profile.
"I am truly delighted to win this accolade, but whilst it's my name on the company and I founded it, this award is about the whole of AJ Engineering and its sister company NEWCo. These firms would not be what they are without the strong teams from the ground up, so I thank each and every single member of staff for making the companies what they are.
"This has, despite the pandemic, been a great year for AJ Engineering and this win is a superb way to be ending the year."
The awards, headline sponsored by Badenoch + Clark, announced the national winners of the 12 director categories, seven regional categories and four discretionary awards to celebrate individuals' business accomplishments in 2021.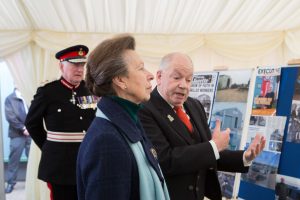 AJ Engineering has had a tremendous 2021.In October, its new multi-million-pound premises at Waterford in Forres were officially opened by The Princess Royal.
Her Royal Highness was also shown the company's HQ where she met members of staff who spoke about the numerous projects the business has worked on across the world.
And the company currently has a team of cladders and fabricator welders en-route to Antarctica for a new project working at the British Antarctic Survey's (BAS) remote Rothera Research Station, where temperatures can plunge as low as -34C.
They will be working on behalf of client BAM Nuttall who have an ongoing relationship with BAS and recently secured a 10-year, £500m contract to upgrade and extend their polar research stations.