Early delivery for whisky job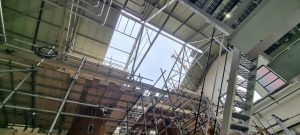 The company's links with whisky producer Diageo is continuing, this time for the Lagavulin Distillery, Islay.
The latest works have included replacing damaged guttering, roof vents and flashings as well as removing the distillery roof so that the all-important copper stills could be removed and replaced.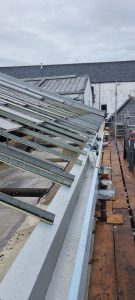 Project manager Gary Moyes explained: "We have been working with Diageo now at a number of its sites, the latest one being for its Lagavulin Distillery. Lagavulin produces a huge amount of whisky every year and these shutdowns are crucial to the ongoing success of the site.
"Over a four-week period there were a number of high priority activities and equipment renewals taking place and our team was right at the centre of the most important part – the copper stills removal and replacement.
"The timing of these works is crucial as clearly if there is no roof the distillery can't operate. After the initial shutdown where the roof was removed, we had around two weeks to draw, fabricate and deliver all materials to site ready for reinstatement phase. All went well, with materials ready and delivered ahead of schedule.
"Our site team, led by Aidy Eastham, were able to return to Islay earlier than initially scheduled and beat the target by four days. This allowed the site to start producing earlier than planned. Happy faces all round."
The scope:
Remove roof panels and intersecting steelwork at still house to allow access above Spirit Still #1, Wash Still#2 and Wash Still #1, for lifting & replacement by client.

Measure and fabricate new vent and gutter sections identified at survey/during removal activities. All replacement materials and associated seals and fixings to be shipped to site ready for installation at reinstatement phase.

Roof panels and associated materials removed at phase 1 to be stored/secured on loading deck external to the building. All materials will be protected and secured for the duration of the works.

Upon completion of phase 1 removals the roof opening will be weather protected using tarpaulins and batons secured to the remaining support frame. This will be removed on the morning of lifting activities to allow clear access for crane.

Upon completion of all copper replacement works, phase 2 reinstatement works will commence on a date to be confirmed by client.