AJE on track with another rail project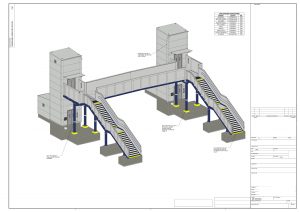 AJ Engineering has been awarded another contract to fabricate and install a pedestrian railway bridge on the Inverness to Aberdeen line.
AJE will be working on behalf of BAM Nuttall on the site of the new £14million Inverness Airport Railway Station.
This is the third project the company has completed for BAM Nuttall on behalf of Network Rail. It previously completed a similar bridge at Kintore and at Forres which also included the fabrication and installation of the waiting room and ticket office.
This new project which is about to get underway also involves the fabrication and installation of a footbridge, which will replace a level crossing about a mile west of the main Inverness Airport Station.
Project Manager Craig Johnston said: "We are delighted to be working on behalf of BAM Nuttall again on yet another railway project. This is very similar to what we did at Kintore. The project involves fabricating and installing the lift shafts and pedestrian bridge that will connect the two platforms.
"Kintore and the Forres were landmark projects and the Inverness Airport Railway Station is as well. It has been long awaited and we look forward to getting started and seeing it being completed and open which is expected to happen in December this year."
In early March, Scotland's new transport minister visited the site.
Jenny Gilruth, who was appointed to the role in January, was given a tour of the site to see how the project is progressing.
The station will serve as an interchange for passengers travelling between the airport and Inverness and will be an additional stop on the line between Inverness and Aberdeen, giving international travellers easy access to both the Highland capital and the Granite City.
The aim is for the new station is to open new travel links to the airport, which is currently accessed mainly by car and occasional bus services.
After the station is completed, a 64-space car park will be built, with four disabled spaces and 10 electric charge points.