Specialist training to secure new works
Two mechanical workers at AJE have carried out extra training in order to fulfil a job for a whisky client.
Richard Jones and Steven Macrae undertook specialist training with breathing apparatus to complete works at Glenmorangie Distillery, the work on site along with other work we have done for them in recent months was managed by Stuart Munro Project Engineer.
The project involved works at the distillery's anaerobic digestion (AD) plant in an Ex rated zone as project manager Wilson Burnett explained: "Richard and Steven are specifically employed for their mechanical skills and they have under taken a lot of work on our ESD sites and for other Mechanical works clients.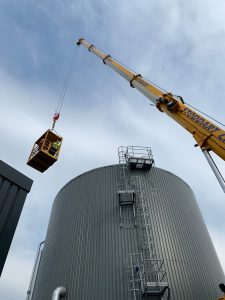 "The work at Glenmorangie was to service the safety valves on top of the bio storage tank. They both had already done confined space training but this extension to the training, which was a two-day course in Aberdeen, involved wearing breathing apparatus while carrying out the work because the area they were to be working in could contain hazardous gasses."
He added: "The training covers the men for three years and as the safety valves need checking every six months there is the potential for us to get repeat business from Glenmorangie. It also means that we may get work from other companies who require this type of expertise"
In January, Glenmorangie announced that Alpheus Environmental will implement a biogas cleaning system at the distillery.
The new biological cleaning system will substantially reduce the use of chemicals to clean biogas, a by-product of the distillation which mainly consists of CO2 and methane. Compared to the existing cleaning system, this will result in the continued reduction of CO2 emissions and drive down operational costs for the distillery.