London Calling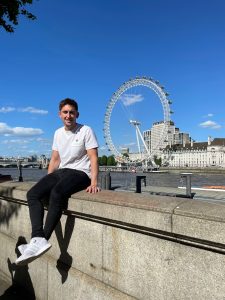 AJ Engineering's Business Development Representative is now splitting his time between the firm's Forres base and London with a view to securing new works, particularly in the south of England.  
Lee Binks made the move a few weeks ago to join his girlfriend who is originally from Forres and works in the famous Carnaby Street.   
Lee explained how the move came about with full support from AJE's directors.  
"I decided to make the move to London for various reasons, one being my girlfriend Katie is living there. I was raised in Findhorn and although Findhorn and Forres are both fantastic locations, I have never experienced life outside of Moray. Having visited London many times, I got a feel for the busy city life and with the covid pandemic making remote working the 'new norm,' I spoke with Alan James and Graham Alexander about maintaining my role, but in a new location and they agreed and I have to say thanks to them for allowing the move."  
Lee added: "In my role, there is a lot of networking, presentations, attending exhibitions and seeing new customers, all of which often happens away from our Forres HQ anyway or is also done via the power of Microsoft Teams and Zoom."  
Lee explained that the addition of the new Ficep Cut and Drill line which opened last year at AJE's Waterford facility has also increased capacity, meaning the company can seek more work: "The new Ficep machinery has hugely increased capacity. Everything can be done in a much quicker timescale which means we can fulfil higher tonnage contracts."