Key role in major rail project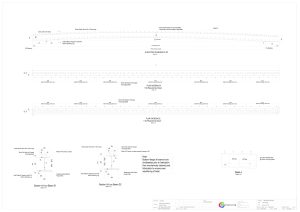 AJ Engineering has played a key role in a project in which a busy Glasgow road will have been shut for eight months by the time the works are complete.
The company was contracted by Bam Nuttall on behalf of Network Rail to fabricate a bridge for Nithsdale Road in East Kilbride as part of the Barrhead electrification project.
The Barrhead electrification programme was given the green light last year in a bid to decarbonise Scotland's railway network.
The scheme, developed by Transport Scotland and Network Rail, involves the East Kilbride and Barrhead corridors, passing through East Renfrewshire and South Lanarkshire.
Kevin Smith, who led on the project for AJE said: "The works are being carried out at our new facility at Waterford. The complex at Waterford is a former sawmill, so it's the perfect space to for the 31 steel girders which are 17.5m in length with the overall length of the bridge being 20 metres. The girders will then be pre-cast in concrete and once that is complete, they will be delivered to the client for them to install."