AJE beams up extension works on former project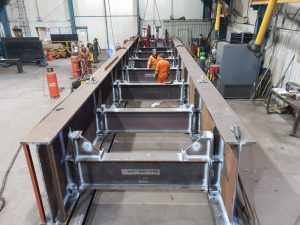 A former project fabricating beams involving over 1km of welding has returned to the workshop to be extended for a different job.
Recently The Micron told how AJE had completed works on two 9Te plate girder beams along with seven traverse beams which were then shipped to the Netherlands. The works were so big, the completed beams had to be craned out of the workshop.
The beams were initially 15.2m long and had to be manufactured from profiled plates and welded together using a splicing technique. The splices are staggered along the beams so there are no major weaknesses in any areas.
The beams were initially used as part of a skidding system and were shipped to the Netherlands where they sat beneath a 200Te structure used for different types of Well operations.
However, the client who has worked with AJE on several previous projects has identified another use for the beams which means some modification had to be made.
Lee Binks explained: "The beams were shipped back from the Netherlands to Aberdeen and the client saw another use for them so came to AJE to make those alterations. We have had to extend the beams by 1.3m meaning once again we needed to utilise the crane to ensure we got them out of eth workshop safely. It's quite common in the oil and gas industry for contractors to identify new ways to use equipment and we are only to happy to oblige and support them with any alterations and modifications that may be required."