Chimneys restored and replicated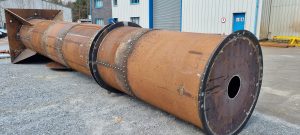 Works to a historic visitor centre will include the installation of a repaired and replica chimney.
Teams from AJE and NEWco have been working on the project in Lyness on the Island of Hoy.
Two existing steel chimneys which are historically significant were transported to NEWCo where the team repaired one. However, the second chimney could not be restored so a replica has been fabricated.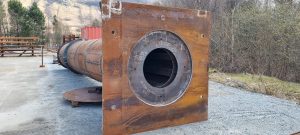 NEWCo manager Neil Worsdall said: "The replica chimney has now been fabricated with the existing chimney currently going through the workshop. Once completed they will both get transported for specialist painting then off to site for installing."
Orkney Islands Council secured a grant of £1.155 million from The Heritage Lottery Fund for the project.
Scapa Flow served as a sheltered harbour for British ships during war, with some 12,000 people once stationed off the Orkney isle. Lyness became the naval headquarters in Orkney during 1919 before works were undertaken to further enlarge the base in the 1930s.