AJE MD in running for director award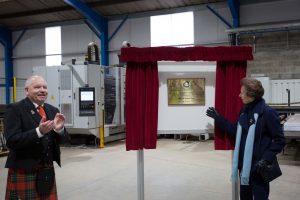 Alan James, managing director of AJE is a regional finalist for the Highlands and Islands in the Institute of Directors Scotland Awards.
Winners will be revealed at an online live awards ceremony on Thursday, December 9 hosted by television and radio presenter, Shereen Nanjiani MBE.
Also shortlisted in the Highlands and Islands category is Fiona MacInnes of Orkney Fisherman's Society and Kevin Shaw of Heatherlea (Scotland) Ltd.
Speaking of being shortlisted, Alan James said: "I am delighted to be shortlisted for the Highlands and Islands region and see that I am up against some strong contenders, so this already feels like a win in itself. This has, despite the pandemic, been a great year for AJ Engineering and being shortlisted is a great way to be ending the year. However, whilst it is my name that is at the head of the company, AJ Engineering and its sister company the Northern Engineering and Welding Company are run by a huge team of committed and enthusiastic staff."
In October, AJ Engineering's new multi-million-pound premises at Waterford in Forres were officially opened by The Princess Royal.
Her Royal Highness was also shown the company's HQ where she met members of staff who spoke about the numerous projects the business has worked on across the world.
AJ Engineering last week announced that a team from Forres will be working on their most remote job to date when they travel to Antarctica for a new project.
The team will be working at the British Antarctic Survey's (BAS) remote Rothera Research Station, where temperatures can plunge as low as -34C.
They will be working on behalf of client BAM Nuttall who have an ongoing relationship with BAS and recently secured a 10-year, £500m contract to upgrade and extend their polar research stations.
Alan said: "It really has been a very exciting year at AJ Engineering. We have had many highlights and this latest award news is just one of them."
Theresa Shearer, Chair of the Judging Panel, said: "There was merit in every single one of the entries for these awards and the judges reflected long and hard over the shortlist. What has shone through are Directors' resilience and entrepreneurship in the face of the extraordinary challenges we have been experiencing. IoD Scotland is excited by the energy and innovation of young directors and those leading established organisations. IoD Scotland is all about good directorship and this shortlist has shining examples."
In 2019 AJ Engineering which employs 80 people was crowned Scotland's Employer of the Year at the Federation of Small Business (FSB) Celebrating Small Business Scottish Awards.
The company has developed a reputation as one of the region's foremost steel fabrication, steel erection and cladding specialists and supporters of continuous learning and apprenticeships.