Mythical beast in place thanks to AJE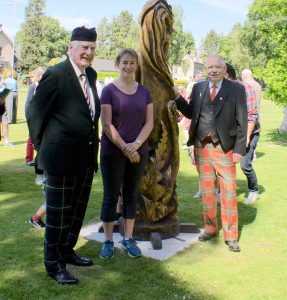 AJ Engineering has played its part in the unveiling of a new wood carving which was commissioned to mark the Queen's Jubilee.
The 7ft unicorn was revealed at the Forres' Picnic in the Park which was held on June 5 and rounded off four days of local celebrations.
The sculpture was commissioned by Forres Events Limited (FEL) of which AJE owner and director Alan James is the chairman.
The concrete plinth the unicorn proudly stands on was donated and installed by AJE and the firm also helped get the statue into place for the big reveal.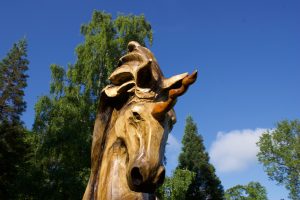 Alan said he was glad they were able to help with the preparation work for the statue: "AJE is very passionate about the community and we pride ourselves on supporting all the local events that take place where we can, and the Jubilee celebrations were no different.
"Grant Park is beautiful and we are incredibly lucky to have it situated right in the centre of our town. Over the years, it has been fantastic to see small but meaningful additions made to the park, and we hope that the new unicorn will provide pleasure for locals and visitors alike for many years to come."