High praise for hangar contract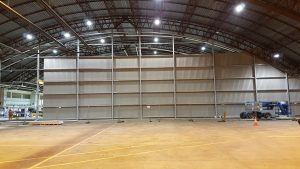 THE AJE team has received high praise after completing a job in Stornoway ahead of time and to the client's complete satisfaction.
AJ Engineering was contracted to fabricate, erect and clad a partition wall at Stornoway Airport's Gaydon Style Hangar.
The work which took two and half weeks to complete was commissioned by North Offshore Limited.
Ian Cattanach, Estimator/Surveyor with the Aberdeen-based firm which specialises in the complete refurbishment of offshore accommodation and onshore commercial premises said: "Your guys have done a tremendous job and the client is extremely happy with what you have done. My contracts manager is singing your praises highly as well, with your guys on site and their attitude toward health and safety. Spot on."
Doug Stephen North Offshore's Onshore Operations Manager added: "This was a very unusual project installing a wall of this nature inside an existing structure and it was carried out without any issues, completed ahead of schedule and installed to a very high standard, our client is very happy with the finished item.
"The site operatives were very polite, friendly and helpful, they maintained a high standard throughout the contract.  No Health and Safety issues or concerns to raise, all in all a very good, well executed job."
The project was lead by Allan Martin who has been with AJE for a year said he was delighted with the result: "We travel all over the UK competing work. It was a well carried out project and it's always good to get something completed ahead of schedule. It's also great that Ian and Doug from North Offshore took the time to let us know how pleased they were with the workmanship."